STAY TUNED FOR FALL GOAT YOGA DATES!
***We require a minimum enrollment in order to run the session. If overall enrollment does not meet minimum requirements, we will contact you to either transfer your registration to another date, or refund you. 
---
CHECK OUT OUR GOATS IN THE MEDIA…
---
OUR MISSION
Screaming Kids Goat Yoga is a therapeutic yoga project founded by Heidi Malnar (200 RYT, 100 hr. Yoga for Warriors) and Anita  Hefler(founder of GNOTRC). Our mission  is to provide joyful and holistic healing experiences for participants through yoga, animal therapy and nature. Motivated by the mission to do good in the world and provide healing experiences for all, goat yoga class registration benefits the Therapeutic Riding program that GNOTRC provides for children and adults living with disabilities.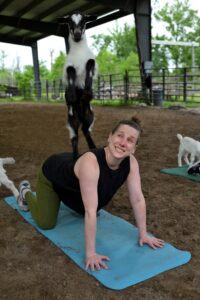 MEET OUR INSTRUCTOR
Heidi Malnar is a 200 RYT, having completed her initial teacher training with Free to Be Power Yoga in New Orleans, LA. She also holds a 140hr Yoga for Warriors certification from YogaFit. Trainings include: YogaFit for Warriors (PTSD), YogaFit for Warrior Kids (Childhood Trauma), YogaFit for Emotional & Physical Trauma, and Restoring Balance: Training the Parasympathetic Nervous System, YogaFit for Addiction & Recovery and YogaFit for Balancing Moods. Heidi is also certified in Restorative Yoga and Yoga for Seniors, and is currently enrolled at Saybrook University to receive her MA in Counseling with a specialization in Clinical Mental Health.
WHAT HAPPENS IN A GOAT YOGA CLASS?
Goat yoga is one of yoga's newest and greatest trends! No prior yoga experience is recommended or required, and experienced yogis will find themselves re-discovering their practice, and laughing in sheer delight with total strangers. This is not only a human-to-animal bonding experience, it's also a human-to-human bonding experience. Goats provide happy distractions by challenging our expectations, providing their own kind of assists, and helping us break linear patterns of movement. Get ready for these adorable animals to jump on your back, hips, belly and shoulders in a wide variety of poses. You may even find yourself working together to maintain connection as you move from squatting to standing with a goat on your back. As animals that want to get to the highest point, they are completely here for the challenge! Practicing yoga with goats is a humbling experience in embracing change, releasing control and surrendering to a wholly unique and joyful experience.
WHAT SHOULD I WEAR?
Goats like to nibble on EVERYTHING! Please do not wear earrings or necklaces or any other accessories that might present a choking hazard. They are big fans of human hair, and we recommend that you secure your hair as much as possible. Additionally, they do have hooves, so we recommend wearing a t-shirt, tank top or long-sleeve that fully covers the width and length of your back. You can practice barefoot or in sneakers. We invite you to bring a mat that you do not mind getting a little dirty. We will practice in a grassy area, and we have a hose to wash off mats after practice.
WHAT ARE THE RISKS?
We practice outside in a grassy area. Occasionally a goat may poop on a mat; however it is the consistency of pebbles and easy to clean. Very rarely, a goat may pee near you, but VERY infrequently do they do that on someone. You may experience some slight bruising and scratches that will quickly fade away. All participants must sign our Liability Waiver & Photo Release Form in order to participate. 
WHAT ARE THE BENEFITS?
Animals have long been shown to increase oxytocin levels (the "bonding hormone"), increase dopamine levels (a neurotransmitter associated with rewards), decrease cortisol levels (the "stress hormone"), decrease blood pressure, and improve PTSD/depression/anxiety treatment regimens. Animal assisted therapy has been shown repeatedly to improve feelings of health and wellbeing. Why goats?  Goats were likely the first domesticated animals, and as such, there is a rich emotional and evolutionary overlap between goats and people.  Thus, it is no surprise to learn that goats recognize human emotion and read human facial expressions. Our goats are socialized, have hilarious senses of humor, and want to bond with you just as much as you will want to bond with them.
Photography by: Brad Borne